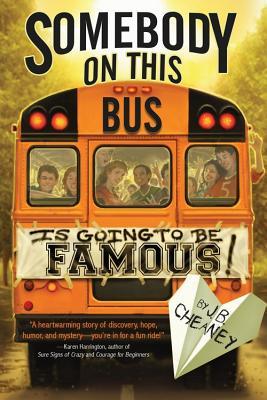 As I think I've mentioned before, I'm really not a big reader of realistic fiction (I prefer duels, magical items, strange creatures, and space battles). But this was an interesting story of a group of kids who ride the school bus together each day and how their lives overlap and even influence each other. Each chapter has one of the characters as a main focus, so you learn about each of them as you read. There's Spencer the genius, Shelly the diva, Jay the sports star, Bender, Miranda, Matthew, Igor - each of them have their own story and their own dreams. The chapters go month by month through the school year. As you read you find out about Jay's grandfather Poppy and his increasing problems with dementia; Shelly's dreams of becoming a big star; Spencer's fears that he is not the genius everyone believes him to be. But while all that is going on, there are also the strange occurrences - the wheelchair stolen from Poppy's back porch, the bus stop that their route takes them to every morning where no one gets on the bus, the old school newspaper that talks about a tragedy involving the graduating class many of their parents were in. How can it all fit together and make someone famous?
If you enjoy realistic fiction, mysteries, and stories where kids are dealing with real-life problems, then you should take a ride on this bus and find out who ends up famous.
I read an e-book provided by the publisher through NetGalley. It will be published September 1, 2014.