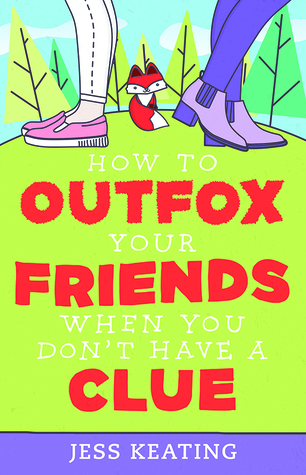 I will have to have a serious talk with Jess Keating when/if we meet, because her book made me cry. She does an excellent job of showing the misery you can experience as a tween or teen who is having friendship drama. In this third book in the series, Ana is about to turn 13, she still hasn't had her first kiss with boyfriend Kevin (her first attempt ended up in a head butt and Kevin having a bloody nose), she survived volunteering at the zoo with Ashley the "Sneerer," and her friend Liv is in town for a short visit from New Zealand. So, not much going on, right? But wait, there's more - she gets an F on her Shakespeare quiz, begins as a volunteer at a wildlife rehabilitation shelter, and has an enormous multimedia project due in two weeks for her English teacher.
Fans of Ana's earlier books will remember her for things like having an allergic reaction to Nair, falling into the shark tank at the sea life exhibit, and other feats of incredible clumsiness and bad luck. That hasn't changed, even if Ana has officially become a teen at last. And, although her shyness and nerves about public speaking may have improved, she still gets terribly flustered when things don't go as planned. Most of us have probably had the experience of trying to fix something and having the situation get worse and worse the harder we try, so it is easy to empathize with Ana, even as we see she is not making the best choices. It makes us want to reach into the book and say, "No - that's only going to complicate things even more. Don't do it!" But have faith, our fearless author will work everything out and do it without waving a magic wand. That's part of the charm of these books; Ana and the other characters all act so human and the resolution always makes sense. It isn't a perfect ending with a rainbow and a great swell of triumphant orchestral music. It's a solution that could really happen, and it can encourage readers that whatever troubles they are having, there is a solution for them, too.
I cannot recommend Jess Keating's books highly enough. Middle grade readers (and up) will be laughing, gasping in shock or dismay, and maybe even shedding a tear or two as they enjoy this realistic fiction written with compassion and humor.
I read an advance copy provided by the publisher for review purposes.
Jess also has a series of YouTube videos for sharing writing tips at Write with Jess Keating.