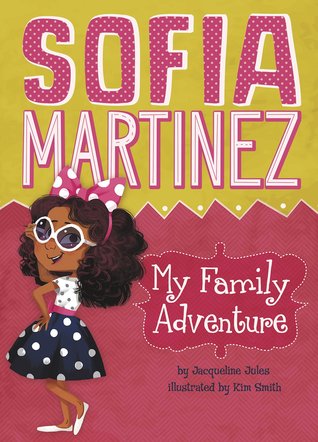 Fans of Katie Woo and Kylie Jean have a new girl to add to their reading list. Sofia Martinez may be the youngest of three sisters, but she makes up for it with her outgoing personality. Whether she is putting together an outfit for school picture day, planning her abuela's birthday party, or finding a runaway mouse - Sofia takes the lead and her sisters and cousins join in the action to make it a family adventure.
These early chapter books from Capstone's Picture Window imprint are full of laughs and family fun. Sofia is a typical 7-year-old with all the interests and energy of other girls her age. The stories are also sprinkled with Spanish words and phrases (color-coded in pink and included in the glossary at the back of the book), that help give a sense of the Hispanic-American background of Sofia's family. The culture is a part of the story, but not in an overwhelming or one-dimensional way. With vibrant illustrations that capture Sofia's fun and vitality, the books are just the right mix of text and pictures to transition readers into chapter books.
I read an e-book provided by the publisher through NetGalley.