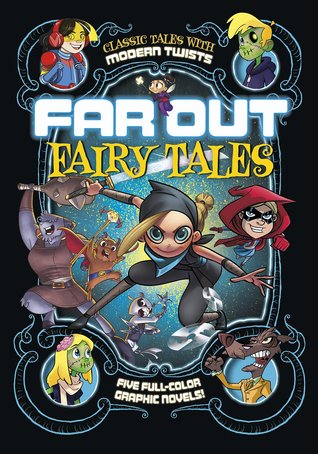 Do you enjoy fairy tales? Are you a reader who also thinks that updated versions and fractured fairy tales are cool? Then jump right into this collection, and you will have 5 of the most nontraditional retellings you may ever come across. Ninjarella doesn't lose a glass slipper; she leaves her special glass katana behind. Red Riding Hood doesn't have a poor sick granny; her grandma is President of the United States. The three billy goats Gruff wind up inside a video game trying to win the boss fight. Snow White crash lands on an asteroid run by seven mining robots while she is trying to escape the evil regent. And Hansel and Gretel are zombies living in an abandoned graveyard with their zombie parents.
One of the great features of this book is the comparison/contrast of each story to its original version. There is also a description of when the original story was first published, including the author (or collector), the date, and the main components of the story. This would make it handy to use in language arts classes that are studying fairy tales and how the themes are presented over time. The illustrations capture the popular graphic novel style and make use of the conventions such as showing action in sequential panels and using sound effects. (I especially liked the POOF when the godninja gave Ninjarella her clothes, then the DOUBLE POOF when the katana appears.)
For graphic novel and comic lovers, all the elements of the genre are there. For those who are looking for new variations of fairy tales to enjoy or add to their collections, these will certainly fit the bill. Either way, you are in for a pleasant time.
I read an e-book provided by the publisher through NetGalley.