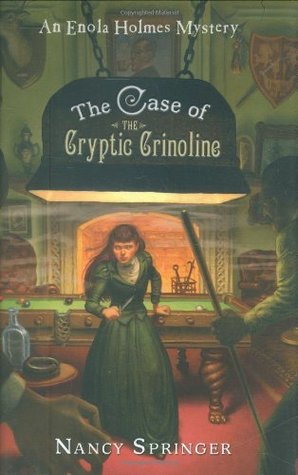 Yet another adventure for the younger sister of Sherlock and Mycroft Holmes, Enola. In this literary outing Enola's landlady asks for her help after receiving a threatening letter. Enola undertakes to find out who sent the threat, but Mrs. Tupper is kidnapped and the house ransacked before she can make much headway. Before all is said and done, Enola has met with Florence Nightingale, narrowly missed being caught by her sleuthing brother, and uncovered a scandal dating back to the Crimean War that threatens the reputation of the newest member in the House of Lords. Not a bad week's work for a fourteen-year-old runaway.
If you haven't tried out the Enola Holmes mysteries yet, they are wonderful fun. I am impressed with how she manages to convince everyone around her that she is an independent young woman on her own, rather than a girl hiding from her older brothers so they can't pack her off to boarding school. And she obviously inherited the family intelligence and her brother's nose for mysteries, because she is always getting caught up in looking for a missing heir or helping her landlady with this threat, etc.
These remind me of Laurie King's stories of Mary Russell and Sherlock Holmes, beginning with
The Beekeeper's Apprentice
. Enola's stories have a similar feel to them of a smart young woman dealing with men in an age when women were decorative and not actually useful in that social class. But these books are not as lengthy or intense as the Russell adventures and would perhaps be a good introduction to that sort of mystery for a bit younger reader.