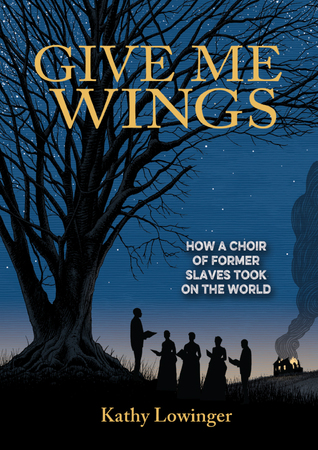 Imagine being born a slave, being told to spy on your own mother, living with the knowledge that you could be sold away at any time. We can't, because we are fortunate enough to have been born in a time and place of freedom. But Ella Sheppard was born in 1851, in the state of Tennessee, and she was asked by her mistress to report anything suspicious her mother said or did. Now, imagine going from that start in life to leading a choir that sang for Queen Victoria herself. A true rags to riches story, right?
Give Me Wings
is not just Ella's story, although she features in it prominently. Using her as a central figure, the story traces the Civil War, Emancipation, and Reconstruction. In the aftermath of the war, schools for blacks (as they were often referred to at that time), either former slaves or others, were established across the South by the American Missionary Association. Fisk Free Colored School in Nashville was one of the schools. But financial woes plagued the school and in an effort to raise funds, it was decided to form a singing group to give concerts. The result was the Fisk Jubilee Singers. The details of their rocky beginning and the road that eventually took them to London and a European tour are covered in a narrative supported with primary sources such as photos, maps, song lyrics, and paintings. The story also draws in other prominent figures of the period, including: Mark Twain, Lyman Beecher, John Brown, Harriet Tubman, and Frederick Douglass.
Altogether a well-told and informative look at a piece of American and Tennessee history that deserves our attention. This would be an excellent addition to any school library or history classroom collection.
I received a review copy from the publisher.