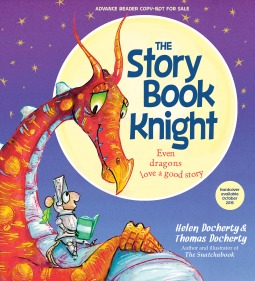 You had me at Docherty. After the success of
The Snatchabook
, it is exciting to see another story from that creative team. This time they have come up with a brave knight named Leo, who would rather read than fight. When his parents send him off on a quest, he makes sure to pack lots of books with the other supplies in his saddlebags. Along with his faithful steed, Old Ned, Leo sets off to see about the dragon that is causing all the trouble. He comes across other fearsome creatures on his journey, but he recognizes them from his reading. Besides the dragon, he also faces a a griffin and a troll - all of these are hungry beings that a small mouse, even if he is a knight, wouldn't want to tangle with. But the pen is mightier than the sword and with some help from his books, Leo manages to make it back home and earn a hero's welcome.
The idea of a tiny mouse facing off against a fire-breathing dragon seems impossible, but heroes come in all sizes. And we all know that smart heroes (especially literate heroes), have the best chance of surviving danger of any sort. With all the bravery of the rats of NIMH or Despereaux, Leo is an aptly named hero with the courage of a lion. Although he doesn't see the point fighting, he still manages to come out and top and save the countryside from ruin, including big piles of fewmets (that's dragon poo in case you didn't know).
The text is not at all heavy-handed as some rhyming stories can be, and the watercolor illustrations are full of details to capture the attention of readers. This is a story that will be read multiple times and enjoyed as much as time as it was the first.
I read en e-book provided by the publisher through NetGalley.
Follow this link to join!