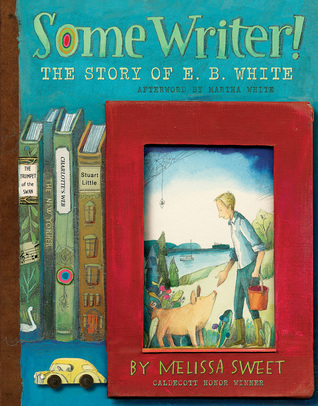 I can remember my fourth grade teacher reading
Charlotte's Web
and
Stuart Little
aloud to us in class. We all looked forward to those quiet times after lunch each day when she would share a few more chapters with us. And my high school English teacher had us each purchase a copy of Strunk and White's
Elements of Style
to refer to for all our writing assignments. Despite all the enjoyment I have gained from his books over the years, I have never read a biography of White until now. And I am glad that I waited for Melissa Sweet's version, because it was thoroughly enjoyable.
The biography is accompanied by a wonderful mixture of photos, copies of letters and journal entries, reproductions of original artwork from his books, and collages. It is fascinating to see "En" or "Andy" White's life as he grew from a shy boy to a writer for such well-known publications as The New Yorker. And I was delighted to learn that he had shared an office with another of my favorite writers, James Thurber, as well as working with legendary editor Ursula Nordstrom (check out her letters in
Dear Genius
).
Young readers will be amazed when they read that
Stuart Little
began as a dream Andy had while on a train ride, or that
Charlotte's Web
grew from observations of life around his own barn. White's note to his editor that, "I would rather wait a year than publish a bad children's book, as I have too much respect for children," should make all his readers sit up and cheer. And it seems that Melissa Sweet has the same outlook, because she has created a book that is appealing and informative without talking down to any children who read it. She has managed to capture the charm and whimsy of E.B. White in this story of his life.
I received an advance copy from the publisher for review purposes.