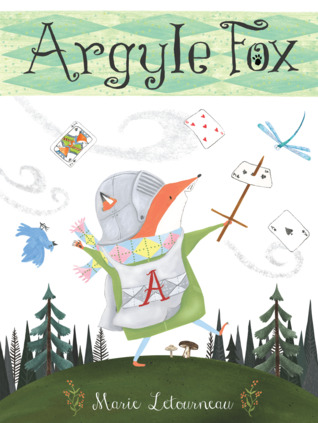 Alexander had the terrible, horrible, no good, very bad day. Now Argyle Fox has, well, the same sort of day. But he doesn't decide to move to Australia, just to never play outside again. And who can blame him? No matter what he tries to do, the wind ruins it. He can't build a house of cards. He can't pretend he's a spider in a web. He can't do anything fun, so he is "never playing in the wind ever, ever, EVER again!" But when his mother encourages him to give it some thought and come up with something that he could play on a windy day, "Huzzah!"
Argyle is determined, spirited, and very imaginative in his games. He just needs to take the weather conditions into account. I'm sure many readers know how it feels to have the wind or some other outside force seem to wreck all the best plans. Letourneau's illustrations bring this frustrated little fox to whimsical life. Whether he is role playing in armor outside a cardboard castle, sporting a newspaper pirate hat and carrying a skull and crossbones flag, or looking dapper in his knee socks and soccer cleats, he gives all his favorite games a try. And when he sits down to think, I love the meditative pose with his legs crossed and his eyes closed.
This is a character who does not believe in half measures. His persistence and ability to overcome the obstacle that the wind poses to his outdoor fun will be an inspiration to readers of all ages. Highly recommended!
I read an e-book provided by the publisher through NetGalley (after seeing a copy at ALAMW17 and falling in love with the adorable little fox).