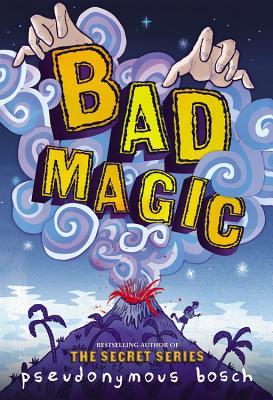 For those who have enjoyed the tales of Max-Ernest and Cass, here is a new story featuring his younger brother, Clay. When he is accused of painting graffiti on the wall of a classroom and suspended from school, Clay must attend summer "reform" camp to earn his way back to middle school. Once he arrives, everything about camp is strange. There are guard bees that sting anyone who passes beyond the Wall of Trust. Campers spend their time working the organic garden and eating veggies fresh from the garden for their meals. They also have llamas to care for. There's a volcano on the island where the camp is located and they do an overnight camp out near the volcano, and then "surf" down the side of the volcano back to camp. It's not your typical camp for troubled kids. Clay is curious about the abandoned mansion on the island and the ghost that everyone says haunts it.
Things are mysterious and hard to understand from the very beginning. Why did Max-Ernest leave home? Why hasn't Clay heard from him? Who really did paint the graffiti on the wall at school? What is really going on at the camp? Does it have anything to do with Shakespeare's play, "The Tempest"? There seem to be a lot of similarities between the play and Clay's situation. Is it all coincidence? You'll just have to read along and find out the answers as Clay does.
I read an e-book provided by the publisher through NetGalley. It will go on sale September 16, 2014.