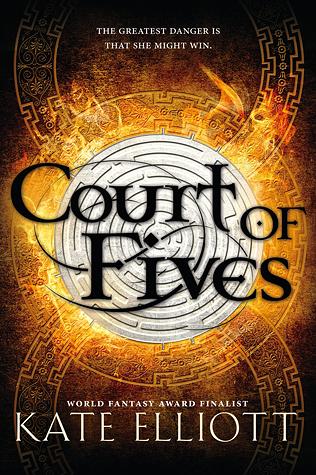 But that's not fair! Ever heard someone say that, or said it yourself? All of us have at least thought it at one time or another, but in Jessamy's world, it is all too true. Her father is from the ruling class, while her mother is from the indigenous people of their country. Although forbidden to marry, they have lived and raised a family together for 20 years. But when a scheming nobleman decides to capitalize on the battleground heroics of her father, Jessamy's family is torn apart. Without the protection of her father's social position, how will they ever survive all the plotting that surrounds them?
This is a richly imagined new fantasy world, filled with the mix of the two cultures - Saroese (her father's people) and Efean (her mother's people). The layers of class and gender restrictions seem suffocating and impossible to navigate. Each side of her heritage comes with its own beliefs and customs, for example: the Efean culture values women and seems matriarchal in its respect for all females, but the Saroese believe that men must be in control and unmarried women aren't even able to handle their own finances. And the degree of intrigue, bribery, and corruption is appalling. By the end of the book, readers may find themselves yearning for a revolution or palace coup.
If you enjoy fantasy worlds that are clearly depicted down to the details of the superstitions and even the common sayings or proverbs, then you should pick up a copy of
Court of Fives
. You will find a courageous heroine, a sinister villain, and some surprising allies on both sides of the conflict.
I read an e-book provided by the publisher through NetGalley.