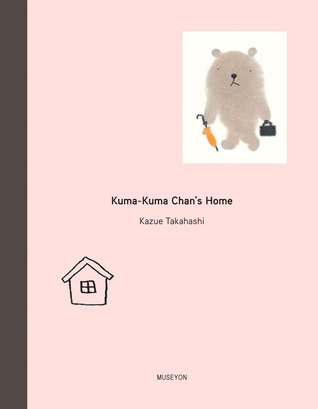 This is a simple book at first glance. There are only one or two sentences per spread. The illustrations are done in a spare style. And there are only two characters, the narrator and Kuma-Kuma Chan (the little bear). But it has a comfortable feel to it. We learn that the narrator has been invited for a visit and then we watch the visit unfold. The two friends spend the day together and share everyday activities. They have tea. They talk. They eat dinner (salmon, because it is Kuma-Kuma Chan's favorite). They watch TV and share the chocolates that the narrator brought. And then it is time to go home. We are left satisfied with a day well spent, much like the way we feel after reading one of Arnold Lobels' Frog and Toad stories.
Young readers will appreciate the easy flow of the day and looking at the predictable sequence of events. Adults will understand the quiet joy of sharing the pleasure of a meal or a conversation with a loved one, and also how those quiet moments can become the memories we treasure most. This will probably be a book picked as a bedtime story, as that seems like a logical progression from the good-byes at the end of the story. It is also one of those books that will be read together with a favorite adult, then read again and again as the child memorizes the story word-for-word.
Perfect for preschool and early elementary children.
I read an e-book provided by the publisher through NetGalley.