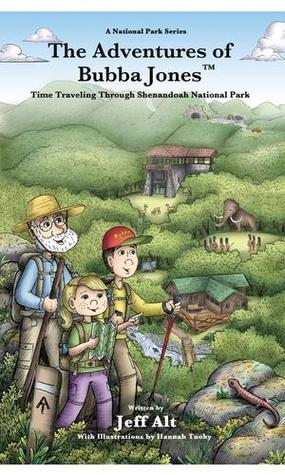 Author and family hiking expert, Jeff Alt, has created a book series that lets kids explore the history of national parks. Bubba Jones and his family visit Shenandoah National Park to hike and camp, and also to work on solving a family mystery. Bubba Jones and his family arrive with their grandparents with plans to meet up with their cousin Washington and his parents, since they live near the park. They find out that Washington is working for the government on a project within the park, but it is top secret and he can't tell them any details. Bubba and Hug-a-Bug (his sister), feel like they can be trusted with secrets, after all - they protect the family secret of their time traveling abilities. Yes, you read that correctly, travel through time!
This special ability is passed to every other generation and is a carefully guarded secret. Using that power, Bubba and his family get to see incredible scenes from the park's past, and even times before the park was founded. They meet famous figures like Thomas Jefferson and Herbert Hoover, see Paleo Indians hunting a woolly mammoth, play in the Iapetus Ocean 500 million years ago, and even see a military camp of Stonewall Jackson's troops and meet Civilian Conservation Corps workers.
Combining the present day adventures of hiking and camping with the historical trips gives the reader a wonderful introduction to the park. Places like Massanutten Lodge, Rapidan Camp, Skyline Drive, and the Appalachian Trail will sound very familiar to readers who have visited the park, and those that have not been there yet will want to go after hearing all about its attractions. The blend of present day locations with historical events and figures makes it sound irresistible - just like the blackberry milkshakes in the roadside restaurants in the park.
I would recommend this book to families planning a trip to the park, those who are interested in outdoor stories, or readers who enjoy family stories in general. It would also be easy to build a novel study around this book and combine it with research into the national parks or early American expansion. The author suggests topics of study in the curriculum guide, as well as providing discussion questions and a bibliography. There is also the added benefit of the title being part of a series; if readers enjoy this book, they can reach for the next one and continue on with Bubba to the next park he explores.
I received a copy of the book from the author for review purposes. (And I had to laugh at Bubba's father picking up one of the author's books from the park gift shop.)