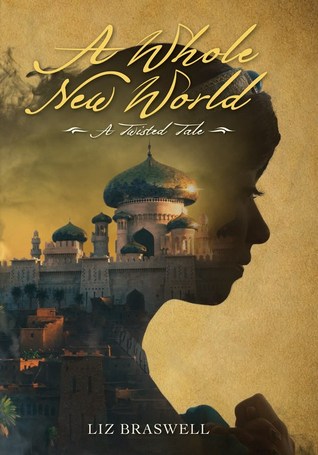 Many great stories start with a simple question, "What if?" In
A Whole New World
, the question to ask is, "What would happen if Jafar got the magic lamp and Aladdin didn't?" Imagine an Agrabah in which Jafar has supreme power - he is sultan, he is an evil magician, he controls the lamp and the genie. What could anyone do to stop him? Liz Braswell has created this alternate story of Aladdin and Jasmine in just such a world. The princess and the street thief must somehow find a way to defeat Jafar, with no magic of their own. What they do have are the people of Agrabah (and Abu and Rajah). Can the frightened citizens, both the respectable tradesmen and the disreputable Street Rats, combine their forces and skills to overthrow the insane sorcerer?
Filled with daring raids, battles, heroism, and terror - this is not the story we all know. But it is a well-told tale of friendship, first love, and the courage of facing evil together. And those who thought Jasmine was a plucky princess in the film version will be delighted to see her really come into her own in this alternate telling.
I read an e-book provided by the publisher through NetGalley.
Here is a quote from the description of the Twisted Tales series provided by Disney for the NetGalley site: "
Ages 12 and up
Welcome to a new YA series that reimagines classic Disney stories in surprising new ways. Each book asks the question: What if one key moment from a familiar Disney film was changed?"