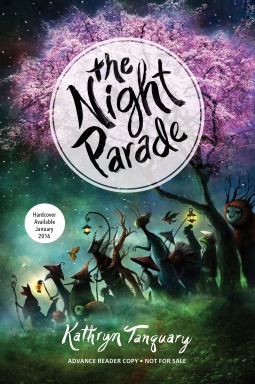 The Night Parade
is a wonderful adventure into the land of Japanese mythology. Saki and her family go to visit her grandmother for the Obon Festival. As Saki thinks of it, "three full days of boring ceremonies to remember ancestors she hadn't met." Her younger brother agrees with her and they both wish they were back in Tokyo enjoying their summer break, rather than in a small village where cell phone service is unreliable. Everything that they are asked to do is complained about, or argued over, or only half-done. And Saki lets local troublemakers talk her into visiting the graveyard at night to play a game of Kokkuri-San (a little like a Ouija board). When they all become frightened and run off, Saki is left to take the blame for the mess they have made.
While the overturned offerings in the graveyard may not be all her fault, there is something wrong and Saki is responsible. Spirits come to her for three nights to help her reach the castle of the Midlight Prince and get his assistance to fix everything. These spirits are not the wailing ghosts that visited Ebenezer Scrooge. The first night there is a fox spirit. The second is a tengu bird spirit. And the third is a tanuki animal spirit. But she also meets a witch, ogres, talking prayer beads, a filth monster and many other members of the Night Parade. Some are helpful and some try to stop her, but she only has the three nights of the parade before the final bonfire of the festival to put things right.
There is spookiness, magic, friendship, danger, courage and resourcefulness - a wonderful fantasy adventure. Readers who enjoyed
May Bird
or
Coraline
will probably have a great time reading this book.
I read an e-book provided by the publisher through NetGalley.