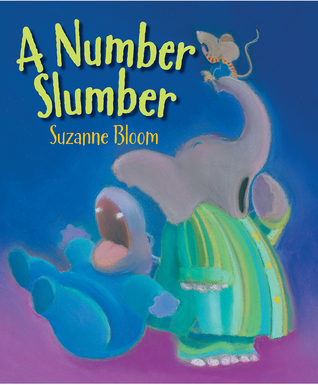 Is it a counting book? A bedtime story? How about both? Suzanne Bloom has created a fun look at bedtime while counting down from ten to one. Readers are invited into the book by questioning them about their own bedtime habits. Do they ask for a story and brush their teeth? Do they wait until they are feeling sleepy before they put on their pajamas? And then she takes us through an assortment of animals all preparing to turn in for the night.
This would be a great book to use for a vocabulary lesson, with words such as warble, nimble, and exhausted. It would also be a good mentor text to use in teaching descriptive writing or alliteration. Phrases like "Ten terribly tired tigers tiptoe to their beds," show the power of repeated sounds. My favorite is probably "Seven slightly stinky skunks somersault into their bunks." Another activity that would tie in well with this title is to research the different animals that are shown. Obviously skunks don't catapult into bunks using a circus springboard, so where do they sleep in real life?
The illustrations will have readers chuckling over those somersaulting skunks, exhausted elephants, and weary wombats. It would be fun to see how many items appear in common within the various scenes - pajamas, stuffed animals, and blankets, for example. The pastels used to create the pictures lend each vignette a warm and cozy glow, perfect for snuggling up at bedtime.
I received a copy of the book from the publisher for review purposes.