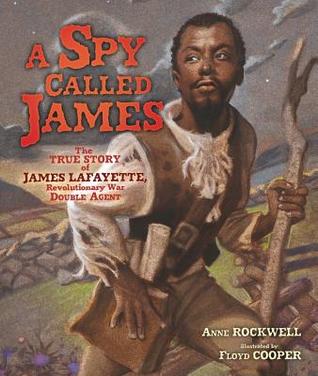 Teachers looking for new stories about the American Revolution will be glad to see the story of James Lafayette. Rather than the usual tales of Washington crossing the Delaware, Paul Revere's ride, or Patrick Henry's "Give me liberty, or give me death" speech - this is an account of a brave man acting as a double agent in the British camp. Anne Rockwell has researched the life of the man responsible for gathering information critical to the defeat of Cornwallis at Yorktown and created a narrative that is informative and enjoyable to read. Floyd Cooper's illustrations show James in his tattered clothes acting the part of a runaway slave, and then the careful eavesdropping James did as he worked around the camp unnoticed by the British officers.
The fact that James was not freed at the end of the war because he had played the part of a spy rather than a soldier will probably strike young readers as grossly unfair. And they will probably admire Lafayette for his efforts to help James gain his freedom. What will seem very strange to them as they read the author's note is the fact that, after gaining his own freedom, James went on to become a slave owner himself. I can imagine many students reading this book as part of their study of American history and the discussions that it will spark.
Along with the author's note, the suggestions for other books about the time period are also helpful. Whether it is used in class, or chosen for self-selected reading, it is a helpful addition to school and classroom libraries and fills some of the gaps in the representation of other figures in history besides those names that are already famous.
I read an e-book provided by the publisher through NetGalley.