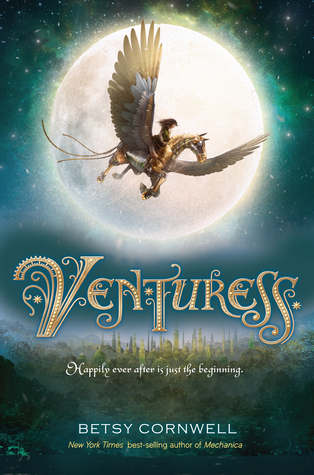 In Mechanica we were introduced to a complex world with the kingdoms of Faerie and Esting so different from each other and so intriguing. The folk from the Faerie kingdom are re-imagined in a way that shows them as distinctly nonhuman, however humanoid their appearance can be. The magic of Faerie and the mechanical, gear-driven inventions of Esting are as unlike as their creators. And there is Nicolette, our heroine - intelligent, inventive, and so lonely and mistreated since the deaths of her parents. Our hearts can't help but long for her success and happiness.
Now we have Venturess, the second of Nicolette's adventures. After the events in Mechanica, Nick moves from her childhood home and into the city. She lives near her friends Fin and Caro and has a workshop of her own to make her inventions and sell them. When Fin's father agrees to an attempt to negotiate a peace with Faerie, Nick and Caro climb aboard the airship with Fin and set off for the land across the sea. Incredible sights await them, along with discoveries about Nick's past, but so do danger, treachery, and battle. Can their love and friendship see them through all these hazards and into a future where the two realms are at peace?
The wonderment of all the mechanical gadgets (clockwork and otherwise), and the magic of Faerie will dazzle the imaginations of readers. Familiar characters from the first novel such as Fitz, Bex, Lord Alming, and Mr. Candery appear, along with our trio of heroes and Nick's trusty steed Jules. New personalities include the airship's crew, its captain (Wheelock), and the Faerie ruler Talis. Questions of loyalty, duty, love, friendship, and the meaning of
family
are all addressed by Nick and her companions, and readers will ponder them as they enjoy the story. After all, every good fairy tale has something to teach us.
I highly recommend this for anyone who enjoys fairy tale reworkings, mixtures of magic and mechanics, and young adults who are brave enough to reach for their dreams.
The publisher was kind enough to supply a galley for me to read and review.