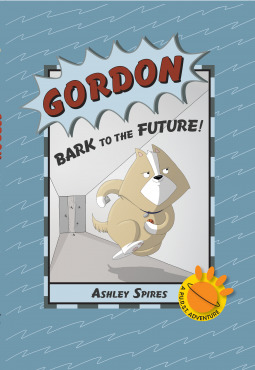 Imagine the agents of CONTROL as furry house pets and then the agents of KAOS as insects and you have the basic idea of PURST (Pets of the Universe Ready for Space Travel). These fearless pets each have their assigned space station (home) where they defend their humans from alien attack (insects). If you have read any of the
Binky the Space Cat
stories, then you know all about PURST. In this latest adventure, Binky is put out of commission by an alien invasion and Gordon must find a way to save everyone - his friends and his humans. "This dog's deadliest weapon is his brain," so he sits down to think up a plan. Using the time machine prototype is the only possible option, but when the aliens change the setting from days to years - Gordon may just be stranded in the past for good!
A mix of "Get Smart" and "Back to the Future," Gordon's quest has him working on his own in a past when there is no "equal opportunity program yet" and PURST is still FURST (a felines only agency). Binky is just a kitten with no training, so how can Gordon get back to the future without altering the past? As Gordon says, "The past needs a poop scoop because this place stinks."
Readers who enjoy funny stories about pets, secret agents, and time travel will have a great time reading the latest adventure of this deteremined canine agent from PURST.
I read an e-book provided by the publisher through NetGalley.