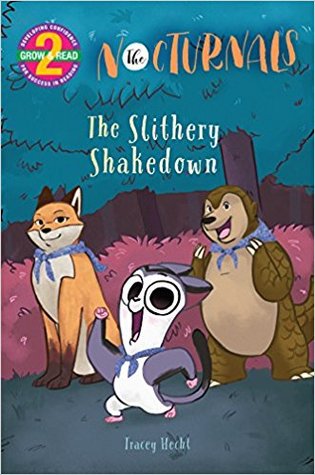 The characters from
The Nocturnals
continue to migrate into readers for younger children. Dawn, Tobin, and the vastly amusing Bismark first appeared in
The Moonlight Meeting
and now their adventures continue in
The Slithery Shakedow
n. Bismark impatiently waits for his friends to join him, but when they do - an unwanted creature also appears. A shimmery blue snake decides that a silly sugar glider would make a lovely breakfast. Luckily for Bismark, his friends stand up to the hungry reptile.
The illustrations make the characters come to life. Some show Bismark tapping his foot or with steam coming out of his ears in impatience. Tobin and Dawn look at his antics with knowing smiles. And when the snake appears, Tobin hides behind Dawn with his arms wrapped around her leg and his body shivering in fear.
Back matter includes a picture and short description of the nocturnal animal species from the story. There are also some facts about pomelos and nocturnal animals in general. A very good book for young students just starting on independent reading, especially those who are interested in animals.
If you haven't seen the first of the readers,
The Moonlight Meeting
introduces the characters and sets their adventures in motion. Stay tuned for further books in the series and check out
The Nocturnals website
.