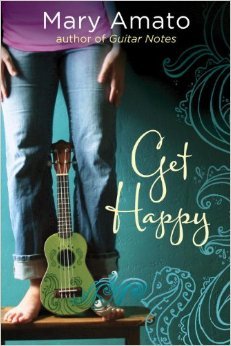 Minerva Watson is so full of creativity that she writes songs the way other people keep a journal or update their Facebook status. Having a bad day dealing with Mom? Write a song. Feeling silly with friends? Write a song. And what she most wants is a ukulele to play her songs on - but her mother buys her a cardigan for her birthday instead. (I'm sure we all know the disappointment an unwanted gift can cause, especially when we don't get the gift our hearts are set on.) Minerva doesn't let it stop her dreams of playing a uke. She and her friend Fin audition to work for a company that provides themed characters for children's birthday parties - Get Happy. Minerva is also trying to decide if she wants to connect with her father, who left when she was 2 and she hasn't heard from him or seen him since. However, this year a birthday gift and card from her dad arrive, along with a note saying he has moved back to the area. Should she track him down?
I love Minerva's character. She and Fin are such a funny pair when they are together. They laugh together, sing songs, make funny stop-action videos with Peeps, and support each other in all sorts of ways. The author has done a great job of creating a teenage girl with real emotions and reactions to what's going on in her life. The song lyrics that Minerva writes help to tie the narrative together and add depth to it. Although I am not a ukulele fan, I would go to open mic night to hear Minerva perform.
I read an e-book provided by the publisher through NetGalley. It will be published October 28 , 2014. For more information, you may visit the author's website.