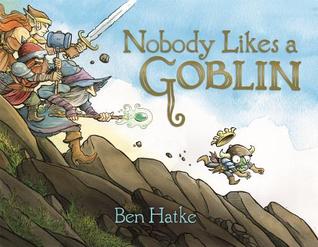 I fell in love with Ben Hatke's illustrations while reading Zita the Spacegirl, and that love has transferred to his amazing picture books like Julia's House for Lost Creatures and now Nobody Likes a Goblin. Not only do the illustrations have the same liveliness and charm, but the story line is wonderful, too. Although the title may lead us to believe that goblins are unlikable, the title character is actually quite nice. He feeds the rats that share the ruins he calls home and he has a friend named Skeleton that he enjoys spending time with. When Skeleton is kidnapped, Goblin must set out to find and rescue his friend. Along the way he does encounter many people who dislike him on first sight, but his persistence pays off in the end

There are so many reasons to love this story (besides the fact that Ben Hatke created it). It is a great tale of friendship and loyalty. It also shows great bravery - after all, Goblin is rather small, but he goes out into the wide world and continues past obstacles until he finds his missing friend. As someone who played hours of D&D and other role-playing games during my school years, I had to laugh at the adventurers who cause all the trouble. It's quite true that adventurers are in it for the gold and glory and rarely stop to think about the lives they are disrupting as they haul off the loot they have found. And it is refreshing to see a goblin going against typecasting and being the good guy.

Readers will enjoy multiple jaunts into this book and notice new details each time (hint - look for the damsel in the wagon). I highly recommend it to all ages. Share it with a friend, because everything is better with a friend. Right, Goblin?

I read an e-book provided by the publisher through NetGalley.