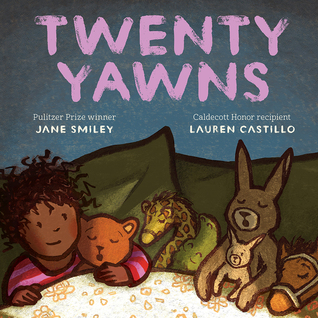 Lucy has a wonderful day at the beach with her parents. She digs in the sand, plays in the waves, and walks all the way to the end of the beach with her mom and dad. By the end of a day filled with sand castles, kites, and rolling down the dunes, everyone is ready for an early bedtime. When her mother falls asleep in the middle of reading her a bedtime story, Lucy decides that she needs her teddy bear. After she gets her bear (Molasses), and all her other animals tucked in, she finally gives one last yawn and falls asleep.
There is so much to enjoy about this book. The cultural diversity of the family is welcome, especially in the current push for more inclusion in media of all sorts. It is nice to see a family enjoying each other and their day together. The illustrations capture the warm golds and browns of the sand and the cool blue of the water. Castillo shows the long walk down the beach by having the family appear several times along the length of the sand. In each appearance they are doing something different - watching Lucy run after a seagull, helping her fly a kite, swinging her between them as they hold her hands. It is easy to see why they are all yawning as they head back home. The beautiful twilight sky with the silhouettes of palm trees will have readers longing for their own trip to the beach. There are wonderful vocabulary words such as horizon, veil, and mysterious. And I love the little details like Lucy putting her pajamas on inside out because she is so tired.
Whether you have beach memories of your own family trip(s),
Twenty Yawns
is a wonderful bedtime story. Younger children will have fun counting all the yawns throughout the book or helping out with the sound effects. Those who are reading independently will enjoy the humor of parents falling asleep while the child is wide awake, or the idea that a teddy bear looks especially tired. A cozy way to end the day for everyone.