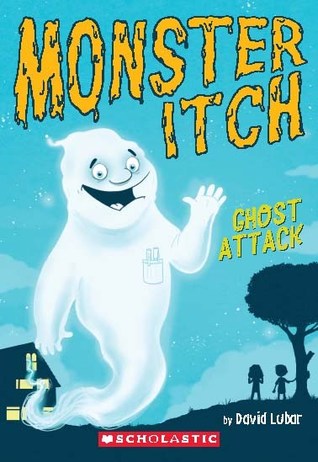 David Lubar is known for his often wacky and offbeat sense of humor in books like
Attack of the Vampire Weenies
or
Beware the Ninja Weenies
. This time he has a chapter book perfect for middle grade readers who want fun with a little ghostly action and not too many pages.
Monster Itch: Ghost Attack
tells the story of Alex and his cousin Sarah as they visit their grandparents' new home. Alex's mom is a doctor, so she is extra careful of his health, but even she could never have imagined that Alex would develop allergies during his visit - allergies to ghosts!
I have weekly allergy shots, so I know what living with allergies can be like. But poor Alex has it much worse than I do. When the ghost comes near him the symptoms begin, and before long his arms are "bathed in an itch so fierce it felt like I'd tried to embrace a bonfire." As it turns out, the ghost has a mystery that he needs help solving before he can rest in peace, so he has chosen Alex and Sarah to help find the truth. Their explorations take them around the house, into the barn, and even into town to visit the historical society. Can two kids really solve a bank robbery that happened long before they were born?
Along with the humor and haunting, there are also some lessons to be learned about making assumptions and judging someone before you know all the facts. A quick, fun read.