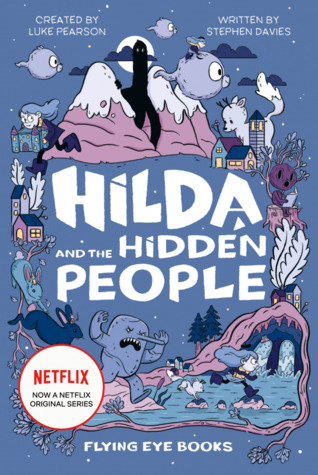 Hilda has been seen in graphic novels and now in a Netflix show, so her story is also appearing in tie-in chapter books. In this first title, Hilda is a curious blue-haired girl who decides to go out into the countryside and sketch pictures of rocks. But she spends the day hiking around and drawing different rock formations. Then she comes across one that she is sure is actually a troll turned to stone in the sunlight. On her way home, she comes across the footprints of a giant. There are already forest giants that Hilda knows about, but this track is much larger than anything they could make. She and her mother also have problems with elves. It seems that their house is in the territory of the elves who have now ordered the humans to leave, or else. Mom is determined to move to the town of Trolberg away from all the odd happenings and Hilda is just as determined to stay in the wild place she loves.
Luke Pearson's illustrations capture the wide-eyed inquisitive nature of Hilda. Her artistic tendencies come through in her chic clothing (skirt, tights, boots, beret), as well as in her choice of leisure-time fun. The world Hilda lives in contains normal things like a home and a mother, but also odd creatures like giants, a wooden men, and trolls. She seems to take all her adventures in stride rather well. As she says, "What a noteworthy day." The color palette used for the book contrasts warm golden tones for the daylight and indoor scenes with blues and grays to capture the dreariness of rainy nights. The difference in the two settings emphasizes the cosyness one can bask in at such times.
I read an e-book provided by the publisher through NetGalley.