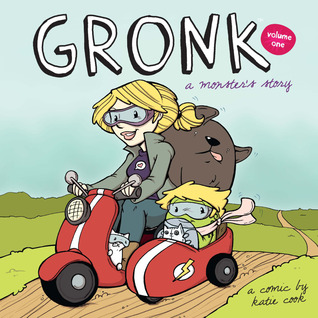 If you know someone who is afraid of monsters, they need to read
Gronk.
Gronk is a monster who just isn't very monstrous. She leaves the rest of the monsters who tease her and even rip her stuffed Kitteh in half. Luckily, she meets a lady named Dale who takes her in. Gronk settles in to Dale's household along with Dales' pets, Kitty and Harli. Each little situation shows how modern human life appears to an outsider - and how appealing pop culture can be.
There are so many funny moments and opportunities to wallow in geeky delight during this collection of stories. Some of my favorite scenes were: Gronk acting out scenes from the videos she has been watching with Dale; Gronk dressed as Batman (and Harli as Robin) perched on the roof of the house; Gronk in an R2-D2 costume and Harli in Harry Potter glasses and scarf, ready to go trick-or-treating; or Gronk asking Dale if she has just escaped from Azkaban when she comes into the kitchen half-awake one morning. Evidently Gronk has a mind that is quick to appreciate and memorize movie quotes.
Fanboys and girls will love seeing this adorable little monster diving right into popular entertainment and enjoying it as much as any devoted geek.
Suitable for any age and amusing for everyone.
I read an e-book provided by the publisher through NetGalley.