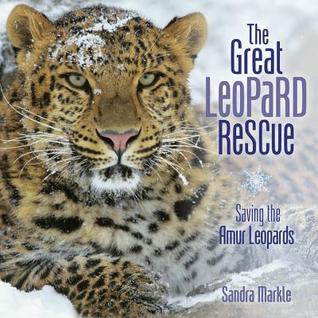 Author Sandra Markle began her research into endangered big cats and discovered that there were only 30 Amur leopards left, making them the rarest big cats in the world. That was back in 2007, but she has researched, talked to experts, and watched as the protected preserves and reintroduction program have been developed.
The Great Leopard Rescue
does a wonderful job of explaining the causes of the shrinking numbers, the importance of the taiga habitat, and a history of conservation efforts. The photographs of the leopards capture breathtaking views of the cats in their habitat, views of young cubs that will have readers saying, "Awww," and examples of the efforts that are being made to safeguard the species.
Along with details about the decline of the species and the recent efforts to bring them back from the brink, there are also maps showing where the cats once had their hunting ranges and the locations of the wildlife preserves now set aside for them. Readers may be surprised by the wide range of experts needed to carry out this conservation and repopulation effort. Everything from using specially trained dogs that find scat which can be analyzed to determine the diet of leopards in the wild to reimbursing farmers for livestock killed by leopards must be coordinated and funded. I was particularly impressed with the plans to bring breeding pairs from zoos to have their cubs in the wild, so that they can practice hunting with their mother in the actual wildlife preserve before the mother is returned to the zoo (along with any of the cubs who cannot survive in the wild.
The back matter includes an author's note, a "Did you know?" section of more facts, timeline, glossary, source notes, index, and suggestions for websites and books to find out more. All of this supporting material, along with the facts shown in the photo captions, works with the main body of the book to present readers with a wealth of information and images. One site suggested for those who are interested in learning more is http://www.altaconservation.org .
Highly recommended for elementary age readers interested in big cats or doing research on endangered species - although anyone familiar with Sandra Markle's work won't need a further recommendation once they see her name. I read an e-book provided by the publisher through NetGalley.