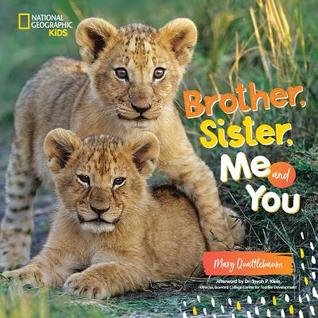 Rhyming text is paired with beautiful photos of animal siblings as they wrestle, swim, and nap. "Beavers build a lodge with sticks. Guppies flash with finny flicks." There are a variety of animals (mammals, reptiles, fish, insects, and birds) from a wide range of habitats. Young readers will laugh at bear cubs climbing on their mother's back, otters splashing each other, and children having a pillow fight.

The photos and descriptions capture the fun of playing with a sibling - and the examples from the animal kingdom lead to a double spread showing diverse human siblings enjoying activities together. Back matter includes animal facts about each of those in the book along with a thumbnail of the image in which they were shown. There is also a letter to parents about the sibling bond.
Recommended for primary or preK ages, especially animal lovers or those children expecting a new sibling.