Have you encountered the Indestructibles yet? These books are made of Tyvek, and are assured to be chew proof - rip proof - nontoxic - and 100% washable. Remembering the days when books for very young readers were made of cloth, cardboard, or plastic, it seems a brilliant idea to make them out of something synthetic that can stand up to any abuse.
The foods in Baby, Let's Eat! are sorted out in 2-page spreads by color. Foods like red raspberries, orange sweet potatoes, yellow star fruit, green kiwi, and purple figs are all shown against a contrasting background and labeled for easy identification.
Each spread has a sentence to help identify where the vehicles belong. "We are driving on the road!" accompanies cars, a truck, and a motorcycle. "We are cruising through town!" showcases a bus, fire engine, and other city transportation. Other pages show air, water, and construction site vehicles. Perfect for young lovers of machines that moves.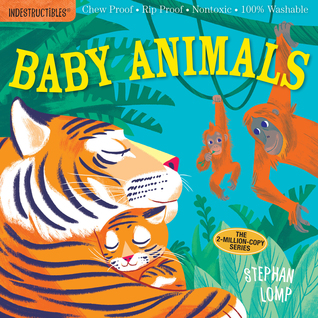 The pages depict several kinds of baby animals, each labeled with the name of the animal and the name for its young. Opossum/joey and sloth/cub for example. After the first two pages that announce "There are all kinds of babies in the world," one spread shows animals playing,another eating, another making noise, and another snuggling.
Other titles in the series focus on a farm, the city, home, neighborhood, and other topics that relate to the lives and interests of young children.