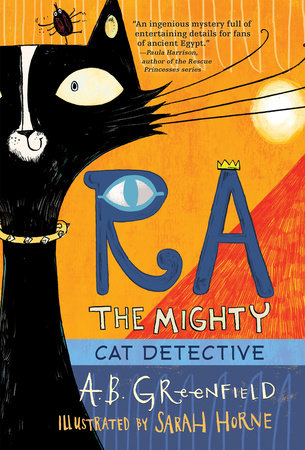 You might think that a pampered and rather lazy cat (although he won't admit it), would make a rather poor detective. But when Ra answers a plea for help (after some judicious blackmail by his friend Khepri), he finds out that being the Great Detective is rather fun. He gets to put his knowledge of the royal palace and its inhabitants to good use, and there is a chance for glory and for everyone to praise him.
Author A.B. Greenfield was inspired to write this story after visiting the British Museum's Egyptian Sculpture Gallery and seeing "a cat wearing an Eye of Horus amulet...if you look closely, you'll notice a scarab beetle riding on top of the cat's head." And some people think museums are boring!
Ra goes from sunbathing by his favorite pool to tracking a thief through the palace and avoiding kicks, styluses thrown in his direction, accusations of having a girlfriend (yuck), and the claws of a leopard. With his sidekick Khepri, a scarab beetle, and some help from a kitchen cat named Miu, Ra the Mighty will do his duty to the Pharaoh and justice.
The interactions between Ra and Khepri are especially funny, although the whole book is a mix of clues and laughs. For instance, Khepri tells him, "Ra, you need to get out more. I've known mummies with more interesting lives." And while Khepri seems to be a very astute sidekick, we sometimes wonder about Ra's judgment. His opinion of the Pharaoh's wife is based on the fact that she "had been known to feed me from her own plate - a sign of good character if there ever was one."
Details of ancient Egypt are worked into the story. Animals kept as pets by the royal household really did include cats, leopards, turtledoves, and baboons. Many people did wear an Eye of Horus amulet for good luck. And there actually was a "Director of Royal Loincloths." What a job!
Some of the details are confirmed in the author's note, and there is also a list of sources. Ra's next adventure is due in October 2019, Ra the Mighty: The Great Tomb Robbery. Until then, share this book with middle grade readers who enjoy animal protagonists and mysteries.