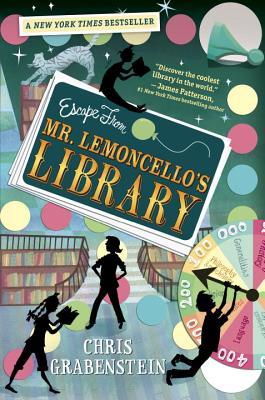 Wow! This book has everything you need for a great read - a fabulous new library, a competition involving the library, lots of references to great books, characters to love and root for, and at least one character to heartily dislike. Mr. Lemoncello has donated the money to build a brand-new public library for his hometown. There is an essay contest to choose twelve 12-year-olds to be the first patrons to explore the new library. Once the kids are chosen, they get to visit the library and try out all the gaming systems, books, holographic displays, and the snack shop. They also learn that they can participate in another competition with the winner earning the right to star in commercials for Mr. Lemoncello's gaming products. The heart of the game is to find your way out of the library without using the front doors or emergency exits and doing it within 24 hours. There are trivia questions, a scavenger hunt, rebus puzzles, codes and more included in the game. Will the characters we like the most defeat the annoying boy who places winning above every other value?
I met the author at the Knoxville Children's Festival of Reading this year. He was one of the speakers that participated in the big 10th Annual Festival and he read aloud the beginning of the book to us. I was hooked right away. The story reminds me of
The Westing Game
, but also has elements that are like
The Mysterious Benedict Society
. And if you think I am dropping a lot of titles into my comments, just wait until you see how often Mr. Lemoncello works literary references into his remarks. That was probably one of my favorite parts of the book, watching for the next reference and thinking, "I've read that!" This is a great book for book lovers, game players, and anyone who enjoys a good story.
For more information about Chris and his books, check out his

website.