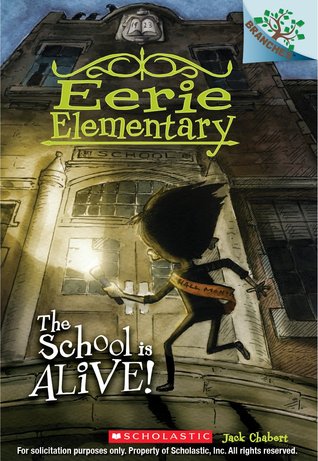 Sam Graves has a problem. He has been appointed the hall monitor for his school,Eerie Elementary. It's bad enough when he thinks the job is reminding everyone to get to class on time and not to run in the hallways. But when he tries to retrieve someone's lost cap from the playground and he's nearly swallowed by quicksand, Sam knows that there is something strange going on. Although his friends don't believe him, Sam is sure that he can hear a heartbeat and feel the school breathing through the ventilation system. Weird things keep happening with locker doors, fire hoses, and the oak trees on the lawn. The night of the school play, events are more dramatic than the teachers and parents had expected them to be. Lucky for them - Sam is on the job!
This is perfect for early chapter book readers who are looking for some thrills and chills, but aren't quite ready for the length of a Goosebumps book. The story line will appeal to those who enjoy things like the Black Lagoon adventures or the Bailey School Kids series. Keep an eye out for more adventures with Sam, Antonio, Lucy, and Mr Nekobi.
I read an e-book provided by the publisher through NetGalley. It will be released in stores June 24, 2014.