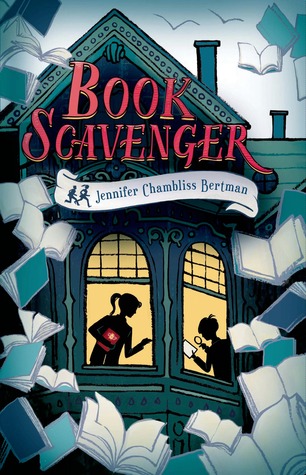 I loved this book. Picture all the best treasure hunt, scavenger hunt, clue hunt stories you've read. This belongs in there with
The Westing Game
,
Charlie and the Chocolate Factory
,
The 39 Clues
,
Escape from Mr. Lemoncello's Library
...you know the kinds of stories I mean. This has all the mystery, the clues, codes to unravel, locations to search, and each one leads you to the next.
Mr. Griswold has already created one phenomenon, Book Scavenger (think Book Crossings, but with points and prizes), that has spanned the world and drawn in hundreds of thousands of players. But, on the day he is scheduled to announce a new game, he is mugged and the announcement is postponed. Emily and her family arrive in San Francisco the day of the mugging. Besides the worry of any fan over Mr. Griswold's condition, Emily has the added disappointment of not being able to begin the new game. Book Scavenger is her hobby, the thing that she can take with her when her family moves (at least once a year for as long as she can remember). She had resigned herself to this latest move because it was taking her to Mr. Griswold's hometown and she would be there when the new game was unveiled.
The high point of the move turns out to be the boy her age that lives in her building. She and James have a shared love of puzzles that unites them from the start, even though he has never played Book Scavenger. And when they discover an unusual book at the scene of the mugging, Emily is sure it is part of the new game. Unfortunately, it seems that others are also interested in the book. Can Emily and James figure out what is really going on?
The characters in this story are so well developed that it is easy to like, or dislike, them as if they were real. When you read that Emily's brother Matthew is into music and loves a band called Flush, you worry that he will be just like Rodrick from
Diary of the Wimpy Kid
. Emily and James don't have a picture perfect friendship, there are disagreements and tense moments. Her parents are great at relocating the family, but it turns out that they are terrible at getting everything unpacked and put away. Once you reach the end of the book, it seems as if the whole thing could really have happened. And all the sensory details in the descriptions capture the setting vividly.
This is like a middle grade version of
Ready, Player One
. A great read for book lovers and mystery lovers. I read an e-book provided by the publisher through NetGalley.