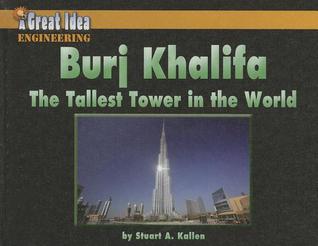 This is a nonfiction book that will appeal to several types of readers - those who are interested in architecture, engineering, and world records will all be interested in the facts and figures inside. I enjoyed the way those facts were made more understandable by using comparisons. For instance, saying that all the rebar used when pouring the concrete would stretch a quarter of the way around the earth or comparing the horsepower of the concrete pumps to that of racecars makes the details easier to visualize. Adding the stories of BASE jumpers sneaking in to use the tower for a jump or how scenes from the movie "Mission Impossible: Ghost Protocol" were filmed there gives the narrative some entertainment glamour.
For those who are interested in nonfiction text features, this would be a great book to use in class to introduce captions, sidebars, graphs, etc. The full color photos and diagrams show the construction process from beginning to end and include details about testing the design in wind tunnels and how the air conditioning system works. Parts of the process that did not go as smoothly are not left out. Instead, the problems and their solutions are explained. Whether it is how they corrected bowing floors, or the economic problems caused by the Great Recession, it is noteworthy that the author addressed these issues rather than leaving them out.
There are several science standards in our state curriculum (and probably other states have them, too), that deal with engineering and technology. The standards specifically talk about how problems may lead to the invention of new technologies or techniques. This would be a good book to pull examples from, since new techniques were developed for pumping the concrete to the upper floors and to make the air conditioning work efficiently in such a large building and such a hot climate, to name just a couple of the engineering advances from the project.
I would highly recommend this book to be included in any elementary school library. I read an e-book provided by the publisher through NetGalley.
For more information (including Teachers' Notes), visit the book's webpage.