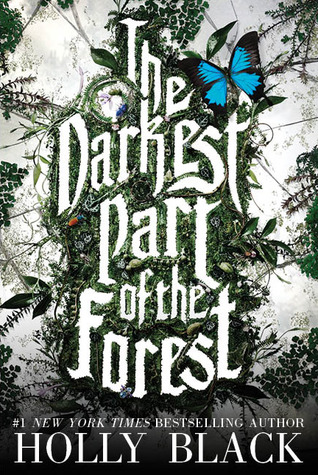 I first encountered the writing of Holly Black in the
Spiderwick Chronicles
,
Doll Bones
, and then
The Iron Trial
. Each of her books has a unique setting and characters, but they are all stories that deal with the unusual in one way or another. In
The Darkest Part of the Forest
, the unusual is considered daily life in the town of Fairfold. Residents of the town know that there are "fair folk" in the woods and that is better to set out a bowl of milk and carry iron in your pockets. Tourists who come through the area may be carried off or have vicious tricks played on them by magical beings, but that's the way it has always been. Until now. Suddenly a strange sleeping sickness is spreading through town, then a monster stalks the halls of the high school, and people begin to panic. It seems that the Alderking and his subjects have decided that the townsfolk are fair game. Hazel, her brother Ben, and their friend Jack seem to be the only ones trying to solve the problem, rather than just running away or blaming others. But what can three teenagers do against an ancient faerie king and his entire court?
I heard about this title in a webinar on "Myth Makers." This definitely has some seriously wicked mythical/magical elements, and there's a bit of the creepy in there, too. I would recommend it for ages 13+, due to some PG-13 content. Holly Black fans, readers of fantasy, and faithful viewers of shows like Grimm, Once Upon a Time, and Supernatural will enjoy this book.
I read an e-book provided by the publisher through NetGalley.
For more about the author and her books, visit her webpage.