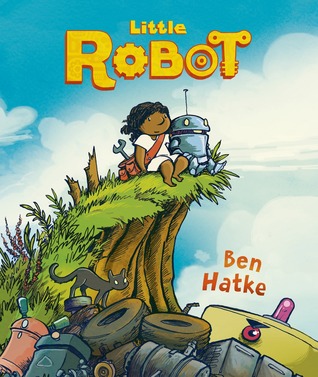 I love Ben Hatke's books. In his latest,
Little Robot
, the story begins with wordless pages showing a truck crossing a bridge, a box bouncing out and falling into the water, and the box slowly floating downstream. Then there are a series of pages with a little girl slipping off to play on her own as older kids board a school bus. When the girl winds up at the riverbank and finds the box, our characters finally meet. As they get to know each other, the missing box is finally noticed and a large robot is sent out to find and retrieve it. Will the small girl and little robot be able to outwit the large, fierce looking robot?
I'm amazed at how much expression Hatke can show on a metal face and a little body language. Little Robot seems happy, surprised, angry - all with a few sounds like "Jonk" "Moorp" and "Zop." It's a bit like watching R2D2 act out scenes from "Short Circuit." And then there is the big, mean robot. We know it's mean because it has a big red eye, a red light on top of its head, and when it comes across a cat we see "Mrow!" and then "Chomp!" It's as if the garbage mashers on the detention level have become mobile and are controlled by SkyNet.
Whether you are a fan of Hatke, robots, or friendship stories, you will all enjoy
Little Robot
. I read an e-book provided by the publisher through NetGalley.