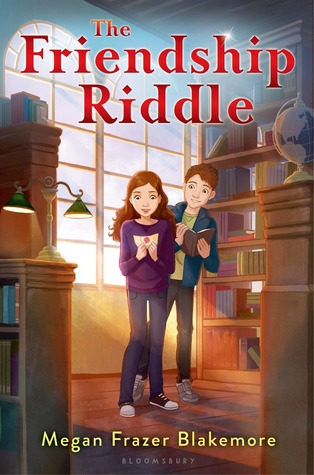 This was such an enjoyable book. I loved the character of Ruth. In the story, Ruth is in sixth grade and is trying to adjust to life without her best friend, Charlotte. She still sees her at school, but Charlotte has become one of the popular crowd and has dropped Ruth as a friend. It doesn't help that her new best friend, Melinda, is mean and sneaky and constantly harasses Ruth. As I would have done at that age, Ruth spends most of her time reading nad hanging out in the library. (Books can be such faithful friends.) But when Ruth finds a mysterious riddle inside an old library book and begins trying to follow the trail of clues to the next riddle, she slowly begins to include other people in her quest.
The kids in the story all have such distinct personalities. There's Ruth, the quiet girl with her books, observing others but not interacting very often. Lena is the flamboyant girl with her own style and is not afraid to express her opinions and stand up for herself and others. The brainy guy, Lucas, who can't help but answer any question and spews facts. Coco (Christopher) is the all around good student; he gets good grades, gets along with everyone, and is genuinely nice. You get the idea - you've probably encountered people with similar traits. And the constant put-downs, physical harassment, and emotional manipulation of Melinda are also a familiar part of middle school.
This book would appeal to lots of different readers: those who like friendship stories will enjoy seeing Ruth move on and begin to let people in; those who like school stories will the classroom scenes and the spelling bee; those who enjoy mystery will like the riddles and the quest to solve them. I think it would make a wonderful book to read a chapter or two a day to a fifth grade class and let them imagine what they might do if their sixth grade year had some of the same situations in it.
Highly recommended for all middle grade readers. Fans of Chasing Vermeer and similar books will love this.
I read an e-book provided by the publisher through NetGalley. For more details about the author, visit her website. Here is the information NetGalley provided about her:
MEGAN FRAZER BLAKEMORE
is the author of
The Spy Catchers of Maple Hill
and
The Water Castle
, which was listed as a
Kirkus Reviews
Best Book of the Year, a Bank Street Best Book of the Year, and as a New York Public Library Best Book for Reading and Sharing. She is also the author of the young adult novel
Secrets of Truth and Beauty
which received a starred review in
Publishers Weekly
and was on the ALA Rainbow list. A former middle-school librarian, Megan lives in Maine with her family.