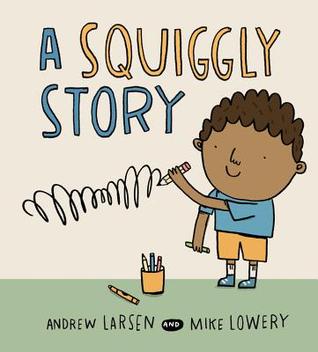 A perfect book for young children who are beginning to be readers and writers. The narrator explains that his sister reads and writes "big words and little words. Page after page. Word after word." And sometimes he pretends that he can do the same with "Swirl after swirl. Squiggle after squiggle." His sister gives him some great advice. She tells him to write about what he knows and that, "It's your story. You're the BOSS." His story is a mix of letters and pictures, what we could call "driting" (drawing and writing). When he shares his story in class the next day, all the other students think it is wonderful and offer ideas about what could happen next. The way his sister, the class, and his teacher respond to the story helps to build his confidence.
This would be a wonderful book to use for a mini-lesson on journaling and writing. The advice about writing what you know and using pictures when you don't know the words is exactly what early elementary students need. There is also other advice from the narrator's sister - a story needs a beginning, a middle, and an end. That is something most of us take for granted, but young writers need to be reminded of. Although the drawings he includes in his story are not very detailed, they are enough to help him remember the narrative of the story as he reads it to the class. That is another point that could ease the worries of fledgling writers - they don't have to be incredible artists to use this technique.
I would recommend this for primary grade classrooms and parents of children in that age range. I received a review copy from the publisher.