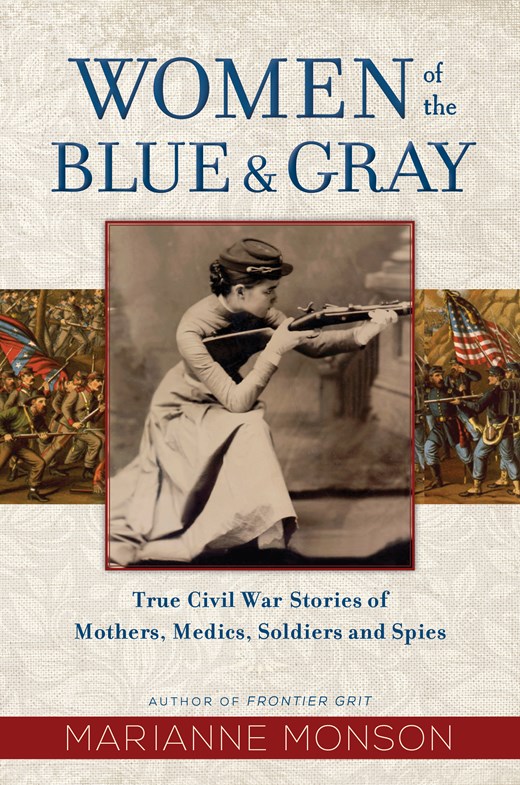 If you have read
Frontier Grit
, then you already know that Marianne Monson is an author who enjoys digging into the overlooked stories of history and sharing them with readers. If this is your first encounter with Monson's work, then you will probably want to go back and find other titles by her. In
Women of the Blue & Gray
, she has gathered multiple female participants across class, race, and political affiliation to show how much women attempted and accomplished during the American Civil War. The book is split into sections featuring the various roles such as soldiers, spies, doctors, abolitionists, etc. Within each section there is general information and also more specific details about several of the women who fall within the category being discussed.
One of the things I enjoyed about the book was that there was enough general discussion to give the big picture, but then I was able to learn more about some of the remarkable individuals within each chapter. Some names may be familiar to readers - Belle Boyd, Clara Barton, or Harriet Tubman, for example. But others are brought into the spotlight after the author's research uncovered records about them in collections such as the slave narratives housed in the Library of Congress, as well as collections at various museums around the country. Whenever possible, their own words are used to bring these women to life for us; quotes are pulled from diaries, letters, autobiographies and similar sources to flesh out the thoughts and feelings of daughters, mothers, wives, and sweethearts from both sides of the conflict.
The way this book is organized makes it easy to use in a variety of ways. It can be read straight through from beginning to end (as I did), or readers can choose a section that particularly interests them. It also would be a great resource for teachers to read a passage about just one of the characters to illustrate a point being discussed during a unit on the Civil War, or for students to flip through as they try to choose an historical figure about whom to do more in-depth research. All the images and quotations are carefully documented, making it easy to see where to look for more information if it is needed.
This would make a solid addition to school and classroom libraries for grade levels that are planning to cover the time period, or for those discussing women who did not always conform to societal expectations. I read an e-book provided by the publisher through edelweiss.